Black and Decker Power Tools
Great Tools On A Budget Price
---
Who is Black and Decker?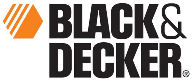 Lets face it. We all know that Black and Decker power tools owns several different tool companies. Dewalt, Porter Cable and Delta to name three.
And no...if you buy a Black and Decker power tool you are not getting a Dewalt, Porter Cable or a Delta.
What you are getting is a power tool line that is designed to be used for the everyday around the house project list.
Don't misunderstand...I think that Black and Decker makes a decent line of power tools...just don't expect them to last like the other big guns out there. You really only get what you pay for.
Now Black and Decker does have a pretty large array of neat and innovative around the house power tools and accessories.
The Black and Decker FireStorm™ and SmartSelect™ line of cordless power tools are both an innovative and successful set of tools.
Why Black and Decker Power Tools?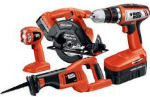 Below are the power tool categories that Black and Decker has on their website.
They cover a pretty broad spectrum and some of the tool categories only have one or maybe two power tools in each.
Like them or not...you have to admit they do offer a larger variety of unique power tools to the occasional do-it-yourselfer.
Where can I buy a Black and Decker Tool?

You can purchase these popular power tools at several online and retail outlets.
These include Amazon.com, The Home Depot, Lowes and several other retail and online stores such as WalMart.
Because this tool line is geared more for the weekend warrior you can find them in more places than just your local hardware or tool store.


---
Our Conclusion?
From my perspective...I believe that Black and Decker power tools are a lower end and economical power tool designed for occasional use.

That's not to say that these power tools won't do all that you require them to do...I'm sure they do for many happy consumers...as I'm sure they will for you.


Scroll down to see other helpful Black and Decker tool reviews...


---
What's YOUR Favorite Black and Decker Power Tool?


Share your experience and opinions by writing a review of your favorite power tool from Black and Decker.


Since opinions vary, we appreciate your "Power Tool Review" be it good or bad.


---
Back from Black and Decker Power Tools to Power-Tool-Pro Home Page