Who is Makita Power Tools?

Makita Tools have been a staying force in the power tool industry for many decades.
Part of Makitas corporate philosophy as stated on their global website is:
to be a "...global supplier of a comprehensive range of power tools that assist people in creating homes and living environments".
I don't believe I could have said it better myself. I honestly think that they mean what they say and that they will always keep the end user...Us...in mind.
Makita builds some of the toughest, long lasting, quality power tools on the market today.
Every Contractor, Do-it-Yourselfer and Handyman that I have ever talked to that uses this line of tools absolutely swears by them and intends to remain a loyal user forever.
Why a Makita Power Tool?
For 95 years Makita has been building electric motors. And what is at the heart of every power tool? An electric motor.
Makita brings all that experience and know how into every Makita tool design.
They manufacture a more powerful, compact, efficient and lightweight power tool than the competition.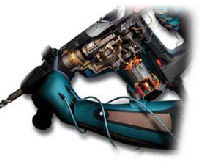 What are some of the innovations offered by Makita?
Below are some of the reasons given on the Makita power tool website as to why they make the best tools in the business.
High quality materials in each motor component
19 quality checks are made on the motor alone
Heat treated shafts and gears for durability
Tight tolerances
A three minute, final run test, under power on each power tool
97% pure magnetic copper wire for better motor performance
Premium-grade magnetic steel is used in their motors
Advanced armature and core designs
A four-pole maximum torque cordless motor
Anyone can toot their own horn about how good their power tools are, but I think the true test of a power tool is how they perform in the field.
And boy...do these guys perform.
Do a quick check of reviews online and you will see for yourself that Makita has some pretty high customer satisfaction ratings.
They have always worked well for me...older and newer Makita tools alike.
How can I buy Makita Tools?

You can purchase these popular power tools at several retail outlets.
These include Amazon.com, The Home Depot, Lowes and several other retail and online stores.
Shop around and you will be able to find many competitive prices...and in the long run it will be money well spent.
Scroll down to see other helpful Makita tool reviews...

---
Copyright 2009 Power-Tool-Pro.com